Biography - Louis Barnett, B'44, H'77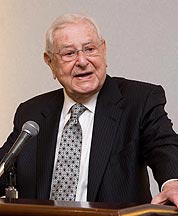 Louis H. Barnett is a graduate of the College of Business Administration, but it is in the chemical engineering field that he has made his greatest impact. A native of Malden, Massachusetts, Lou is an inventor and holder of many patents in plastic processing and machinery. He was the first to practice rotational molding and casting, and helped design the first pre-plasticizing injection molding machine.
The Barnett Institute of Chemical and Biological Analysis, a center for advanced interdisciplinary research in the molecular sciences at Northeastern University, was established in 1973 and named in his honor.
The owner and president of Louis H. Barnett Investments, Lou is the founder and board chairman of Frost Enterprise Bank, and founded Loma Plastics in Fort Worth, Texas before selling the company to Standard Oil of Ohio.

Lou was Chairman of the Board for Originala Petroleum Corporation and Petrochemicals Company, Inc., both based in Fort Worth, as well as Arnon Investment Corporation in Israel. He was also a member of the Board of Directors of Overton Bank and Trust in Fort Worth, Chattem Drug and Chemical, Inc., of Chattanooga, Tennessee, and A/F Protein Inc. of Waltham, Massachusetts, and has served as a consultant for chemical, plastics, and management service corporations around the globe.
Lou and his wife, Madlyn, have two daughters: Laurie Ray Werner and Rhoda Beth Bernstein; a son, Eliot Bruce Barnett; and several granchildren. Lou is an American Kennel Club judge emeritus and enjoys training and showing dogs, cooking, and writing, among other hobbies, and speaks five languages.