On why he decided to attend Northeastern:
"A number of utilities throughout New York and New England were concerned at that time that all the students entering electrical engineering were going to migrate into the computer sciences, the high-tech industries. So, they formed a power engineering program to try to attract kids into power generation and power distribution. They had a competition on Long Island. I wrote an essay and applied, and got interviewed. Lo and behold, I won the scholarship."
Listen to the full clip.

On his student experience at Northeastern:
"I came here because it was a great education and because I knew co-op was going to be a valuable experience. But I probably wasn't enamored with coming to a city school. After your freshman year you didn't live in a dorm, you had to live off campus. So there wasn't a lot of natural coming together of people, particularly for somebody who was from out of the area."
Listen to the full clip.

On his co-op experience at Exxon-Mobil:
"When I went to Exxon as a co-op, they didn't give you a diversity of experience as much as they gave you a lot of responsibility, just as if I was a new engineer hired. As I learned more, they gave me more and more responsibility. My last co-op term, I was running projects for them."
Listen to the full clip.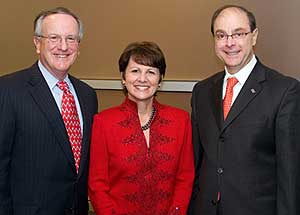 Ed and Cathie Galante with President Joseph E. Aoun.
On reconnecting with the University as an alumnus:
"My company, Exxon, had a very, very generous matching gift program. A number of my cohorts at work were big supporters of their universities and used that program. I was, fortunately, doing well in my career. I said, 'I might as well do something because it's like throwing money away if you don't.'"
Listen to the full clip.

On viewing the physical changes to campus upon his first visit as an alumnus:
"I can say it in three words: Gray to green. Back when I was here, not only were the physical buildings gray. It was a gray campus. Now, there's just a whole different feel when you walk on it. It really went from being a gray, kind of dismal, grind-it-out kind of place to a more robust, bright, airy feeling."
Listen to the full clip.

On the evolution of Northeastern's students, faculty, and infrastructure:
"What I've seen is a remarkable transformation. Not only in the physical facilities, but in the diversity of the student body, the academic credentials of the student body, the quality of the faculty. You could just go on and on down the list. In engineering terminology, all the vectors are in the right direction."
Listen to the full clip.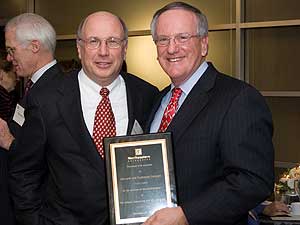 Ed Galante with Chairman of the Board Sy Sternberg.
On his motivation for establishing the Galante Engineering and MBA Program:
"In my view, from a business leadership perspective, engineering is a great foundation. What you want to be able to do is give people the technical skills that go on top of that: to speak business language, to understand the business process."
Listen to the full clip.

On the how Northeastern responded to the necessity for change:
"You needed to change something. Fortunately, I think they made a lot of the right choices in how they addressed that, both in terms of quality of faculty, quality of students, quality of campus. I don't think we would be where we are today if you just improved one."
Listen to the full clip.

On the role he envisions for Northeastern in the future:
"I think it will be more international, both in terms of its presence here as well as its presence around the globe. I think it will be consistent with the evolution of the times. It will continue to be an urban-based, practice-based, experiential learning-based institution. I think the academic standards will continue to climb."
Listen to the full clip.

This interview is available in its entirety in the Northeastern University Archives. Photos: Carla Osberg Photography, the Office of Alumni Relations, University Libraries Archives and Special Collections Department.