On her late decision to study law and her reasons for doing so at Northeastern: "The law school was extremely attractive ... the law school had recently restarted, and it was just a very different atmosphere from what I understood other law schools to be. I thought that that would be a way that I could feel comfortable in this new career choice, and I was absolutely right. It was the most magnificent atmosphere to learn the law: supportive students, supportive faculty, just engaging ... it was marvelous."
Listen to the full clip.

On how Northeastern's campus has grown and evolved since her time at the university: "I think the students of today are so very lucky to have a campus that looks the way it does. A lot of time, thought [and] effort has gone into making the campus a welcoming place. I can't really say that it was a welcoming place physically back in the 70s; it was concrete, asphalt, everything was gray and black; it just wasn't the place to be ... I love walking through the campus now, particularly in the spring when the tulips and the daffodils and the trees are in bloom. It's just amazing, and there wasn't any of that."
Listen to the full clip.

On her introduction to Northeastern and how it differed from her typical view of what a law school was like: "I remember lining up for registration at Grizmisch, wondering what I was doing, had I made the right choice, and immediately I met some people standing in line and for the next year we were inseparable ... I wound up studying for the Bar exam with one of them as well ... I also remember the administrative staff being so helpful. The professors were just so friendly, and that was not what my image of law school was all about. Northeastern just sort of broke the mold."
Listen to the full clip.

On some of her favorite teachers and courses at Northeastern and how they encouraged her to continue with her major: "And I have to mention Don Berman. He's one of the reasons became a trust and estates tax lawyer. I never thought I'd enjoy taxes. I never thought I'd be good at it. And when I was in law school, a required course for first year students was Income Tax. And that was just daunting; nobody wanted to take income tax. Don Berman made it actually fun, and I learned a lot from him ... he gave me the confidence to continue on that path."
Listen to the full clip.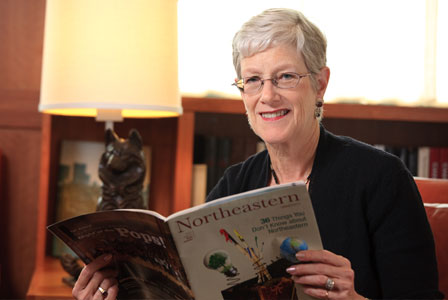 Janet Smith reading Northeastern magazine during a recent visit to the university.
On the parallels between her teaching background and law: "Because I wanted to be a teacher — I think I've always wanted to be a teacher — [I] continue to like teaching. And throughout my entire law career, I have taught either other lawyers in my department, or other lawyers in the state by giving seminars, and every time I met with a client I felt as though I was teaching that client what they needed to do, or why we were doing things. So it worked out very well."
Listen to the full clip.

On her co-op experiences at Northeastern and how they helped her to refine her career choice: "One of the best things about the law school is having that experience. Instead of having only two work experiences that most law schools would have, having four very different experiences helped me decide the area of law [I wanted to study] ... I always felt that I was one to two years ahead on the practical side of my colleagues when I was working after law school."
Listen to the full clip.

On her experience commuting to Northeastern in the aftermath of the blizzard of 1978: "Trying to maneuver down Huntington Avenue with all the snow banks as a pedestrian, trying to drive a car, forget it! We all went around with flags on our antennas because you could not see around the corners with these snow drifts; everything just shut down ... I remember the National Guard coming down the VFW Parkway in tanks."
Listen to the full clip.

On how the co-op program at Northeastern helped prepare her for her future career: "One, the co-op interviewing process was so helpful, because when you come out of Northeastern Law School — and I'm sure it happens with the undergraduates, too — you have gone through so many job interviews that you become very good at them ... and again, for me, since I had never pictured myself as a lawyer, trying it on a co-op experience helped me gain my confidence, and I think that was essential."
Listen to the full clip.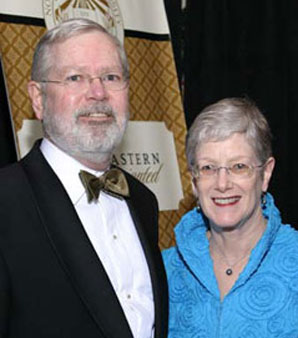 Janet Smith with her husband Bob Woodburn at a Northeastern event in 2007 celebrating the inauguration of President Aoun.
On the need for university libraries in the digital age and what drives her to give back to Northeastern to support them: "My career wouldn't have happened without Northeastern. I would be a very different person, not only in terms of my career but also what I'm all about. Northeastern really helped shape me, and I'm very grateful for that."
Listen to the full clip.

On how, in her 20 years of service to Northeastern, she viewed the collaboration and vision that allowed administrative staff to pull the university through its difficulties in the 1990s: "There are just so many people who love the university, who work here and just want to see it succeed. And you see that as a trustee, you see the threads being woven together of all of the contributions of all of the administrative staff; it's just amazing."
Listen to the full clip.

On her collaboration with the Development Office to educate alumni about planned giving: "The university was just learning about planned giving when I came on the board. It was a natural for me because that's part of my trust and estate practice, so I worked with the Development Office on how to educate alumni, in fact, [I] gave seminars on planned giving to perspective donors here on campus."
Listen to the full clip.

On the university presidents she has known: "It's quite a progression and they are all very different; they all brought different talents that helped Northeastern become what it is."
Listen to the full clip.

On the evolution of the university: "It saw the need and it met the need for itself and the community."
Listen to the full clip.

This interview is available in its entirety in the Northeastern University Archives. Photos: Janet Smith, University Office of Advancement, and University Libraries Archives and Special Collections Department. Compiled by Jessica Melanson.