Biography - George P. Makris , BA'48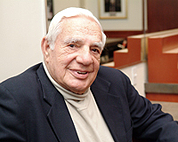 As a student athlete during the 1940s, George P. Makris earned varsity letters in three different sports: football, baseball, and ice hockey. In an academic career that was disrupted by World War II, he lettered as an offensive guard and defensive tackle in 1941, then returned after his tour of duty to letter in 1946 and 1947.
After George's teammates elected him as the 1947 captain, he won several all-star awards for his exceptional play that year. He also earned one letter with the baseball team. In 1947, with his football career behind him, he volunteered his services as the hockey manager. Following several injuries to the varsity goalies, he went on to earn a varsity letter in ice hockey.
Upon graduating with a degree in business, George began a 22 year career at Electrolux Corporation. He excelled in sales, and quickly rose through the ranks to become a division manager supervising more than 300 employees.
After retiring from Electrolux in 1970, George returned to his alma mater. At first, he devoted his time as Varsity Club president in 1975 and then as treasurer. His dedication to the University was evident when, in 1977, George became the first Director of Athletic Development. He led successful campaigns to raise funds for Matthews Arena, Parsons Field, and Solomon Court, and began the "Fight to Educate" program, a black-tie event featuring amateur boxers that, after 18 years, has raised nearly $1 million. The George Makris Varsity Club Room at Matthews Arena was named in his honor.
In 1983, George was inducted into the Northeastern University Hall of Fame for his accomplishments in the sport of football, and for his achievements as the University's Director of Athletic Development. He is a 20-year member of the Marlboro, Massachusetts Chapter of the American Hellenic Educational Progressive Association, and is a longtime director and former president of the Eastern Massachusetts Chapter of the National Football Foundation. In 1997, he was the recipient of their Distinguished American Award.
In 2008, George and his wife, Helen, endowed the George P. and Helen C. Makris Family Scholarship fund, which annually supports a student-athlete either on the baseball or football teams. They have also generously supported numerous other scholarships, as well as the expansion and construction of multiple athletic facilities, and are members of the Frank Palmer Speare Society.
George and Helen reside near Boston, Massachusetts. They have two sons, William, MBA'83, and Philip, PA'81.