Biography - Melvin P. Aronson, P'56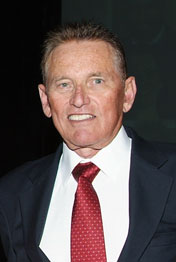 Raised in Cambridge, Massachusetts, Mel Aronson graduated from Northeastern in 1956 with a bachelor's degree in pharmacy. He has become a consummate health science entrepreneur, founding New England Home Health Care Supply, Inc., a successful medical supply provider, and next establishing Suburban Ostomy Supply, a wholesaler of medical supplies and home healthcare products, with boyhood friend and classmate Herb Gray, P'55. Today, both companies are leaders in the industry.
Mel and his wife, Martha, are especially dedicated to giving back to both Northeastern and their community. Their longstanding loyalty and generosity to the university is epitomized by the Alumni Dinner and Golf Outing at the Boca Raton Resort & Club, which they enthusiastically host each year. The event raises vital scholarship dollars which enable Northeastern to continue providing outstanding educational opportunities for its students. Mel and Martha have additionally contributed to the construction of the state-of-the-art George D. Behrakis Health Sciences Center, the Bouvé College Dean's Fund, and the Joseph Fleming Entrepreneurs Fund. In recognition of his enduring commitment to Northeastern, Mel was presented with the Bouvé College of Health Sciences Outstanding Alumni Award in 2006.
Mel and Martha are actively involved with a number of community organizations, including Jewish Adoption and Foster Care Options in Florida which assists children in need of finding loving homes. Additionally, Mel continues to work with the Massachusetts College of Pharmacy and Health Sciences in Boston, where he taught for eight years and created two certification courses which became key components of the curriculum.
Mel and Martha have four children, one of whom graduated from Northeastern's College of Business Administration in 2008. The couple resides in Florida and Maine.