On choosing to attend Northeastern:
"I didn't even know what co-op was. Back then, I think we were working like 10 weeks, and then we went to school for 10 weeks. I needed that because I was in no shape to study constantly. I needed that break with the co-op for a lot of reasons. My life wasn't that easy."
Listen to the full clip.

On co-op and choosing pharmacy as a career path:
"My co-ops were done in Cambridge because I had no car. I was doing everything by subway…Back then, there were a lot of independent pharmacies. There was one in Central Square, one in Inman Square, one in Somerville, a place I could walk to that was only 4 or 5 miles away."
Listen to the full clip.

Mel Aronson, at right, graduated in 1956 with a degree in pharmacy and one of his first jobs was at the Natick Pharmacy outside of Boston.
On how his first job shaped his philosophy on life:
"It was a Rexall store and it was a very busy store, selling a lot of 'scripts and he employed about seven pharmacists. Remember, there were no chains back then. I just loved working for this guy."
Listen to the full clip.

On his friendships from co-op:
"I have a close friend that was at Northeastern, he was one of my co-op students. We were close for a lot of years. A lot of stuff I did for him, he passed on to his kids and passed on to some of the people that worked for him…He became part of the family.
Listen to the full clip.

On starting his companies:
"When I was ready, Herb [Gray, P'55] called. He said 'Why don't we find a store?' and that's how we got started…We opened the first store together, and struggled with that first store and got it going."
Listen to the full clip.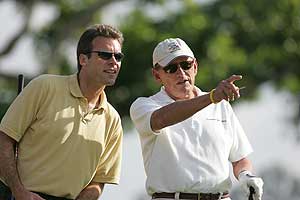 Mel Aronson, at right, participating in the Annual Alumni Golf Outing in 2006.
On his annual Boca Raton scholarship golf tournament:
"We promote this every year in Florida to get a student into college, and to pay for them. I'm going to continue doing it…I went to a hockey game once, and I was getting off the elevator and some guy looked up and said 'Aren't you that Northeastern guy that runs that event in Florida?' I said, 'I guess I am, I'm famous!'"
Listen to the full clip.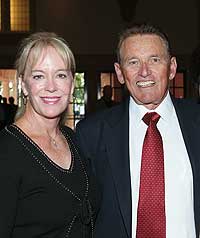 Each year, Mel and Martha Aronson host the Alumni Dinner and Golf Outing in Florida which raises vital scholarship funds for Northeastern students.
On his son's Northeastern experience:
"The co-op program is so important. My youngest one just graduated from Northeastern…He's gotten a terrific job because of Northeastern and his hard work. He's working today, and he's happy with the job he has…His resume was full before he left co-op and left the university.
Listen to the full clip.

This interview is available in its entirety in the Northeastern University Archives. Photos: University Libraries Archives and Special Collections Department and the Office of Alumni Relations.