On the classroom atmosphere in the 1940s:
"We took our English classes across the street where there were two ballrooms on Huntington Avenue. All the big-name orchestras used to be heard, so we would take our English classes with our feet bouncing. It was the old Benny Goodman…"
Listen to the full clip.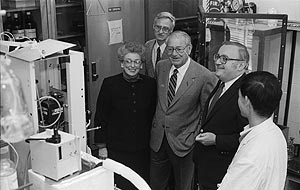 Madlyn and Lou Barnett with professors Bill Giessen, at rear, and Barry Karger, second from right.
On being among the first Northeastern students to combine business and chemical engineering:
"I read a biography of Thomas Edison, I guess, in the '30s, and he said the next important decade, century, would be the age of chemistry. I said to myself, 'Well, if it's good enough for Edison, it's good enough for me.'"
Listen to the full clip.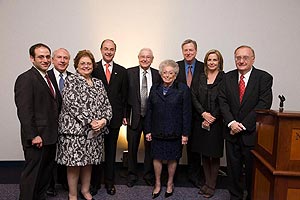 Lou and Madlyn Barnett, at center, celebrating the 35th Anniversary of the Barnett Institute in October 2008. Joining them are (left to right) Jeffrey Werner, Lon Werner, Laurie Werner, President Joseph Aoun, Eliot Barnett, Sheryl Barnett, and Professor Barry Karger.
On the cooperative education model:
"I am a thousand percent in favor of it. I can't understand why more schools don't adopt it the way Northeastern has."
Listen to the full clip.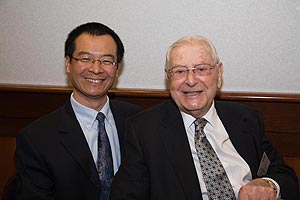 Lou Barnett with Professor Zhaohui Sunny Zhou at the 35th Anniversary of the Barnett Institute.
On the rising reputation of Northeastern:
"I think we've been fortunate to have some pretty good leaders up there and they've guided the school to a position that none of us probably thought possible. And I think it's only the beginning."
Listen to the full clip.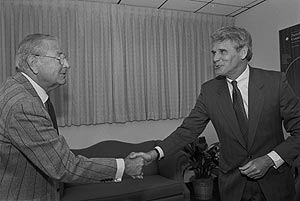 Lou Barnett and Jack Curry, LA'56, MEd'60, H'96, former president of Northeastern.
On the establishment of the Louis Barnett Institute of Chemical and Biological Analysis and his philanthropy:
"One day I got a call from Gene Reppucci, chairman of the board. And they wanted to see me and I said, 'Come on over.'"
Listen to the full clip.

This interview is available in its entirety in the Northeastern University Archives. Photos: Lou Barnett and University Libraries Archives and Special Collections Department.