On growing up in Japan and deciding to attend Northeastern University:
 "I grew up living in Nagoya, Japan, which is 250 miles south of Tokyo. Nagoya is a very modern city with a strong academic environment and many major Japanese companies located there. Because of that, many foreigners worked in Nagoya."
Listen to the full clip.

On arriving at Northeastern as a transfer student:  
"I was here from 1968 to 1970. I was a transfer student, and also I was a full-time student. So it took me three years to graduate."
Listen to the full clip.

On her student life at Northeastern:
"I found the academic life here at Northeastern University was very challenging, but highly satisfactory…My English ability was not that good, a little bit slower, so I had to study very, very hard."
Listen to the full clip.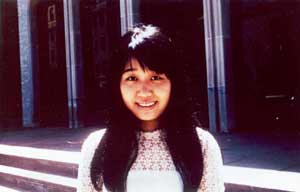 Nobuko Saito Cleary was raised in Nagoya, Japan and transferred to Northeastern in 1968.
On deciding to major in English:
"Well, I liked English so I wanted to learn English. In Japan, most people who study English, they couldn't speak English at all. Even English professors who were teaching at the time, they couldn't speak. So I wanted to study English, particularly, and so that's what I did."
Listen to the full clip.

On taking a drama class at Northeastern:
"Well, the culture in which I grew up is very difficult and different from the American tradition…To be loud or overly demonstrative or animated is not looked upon favorably. I took a drama class from Dr. [Eugene] Blackman and he told me to use my hands and move my head, otherwise no one will know what feeling I am trying to express...When I went back to Japan for summer vacation, my parents were astonished. They said, 'What happened to you, Nobuko? You speak like an Italian opera.'"
Listen to the full clip.

On her professors:
"I felt very lucky when I was a student at Northeastern University because so many professors were so good to me. Especially one of the professors I was really thankful [for] and have all the appreciation for is Dr. Victor Howes, who was my English professor. I took English literature and Shakespeare and a poetry class from him."
Listen to the full clip.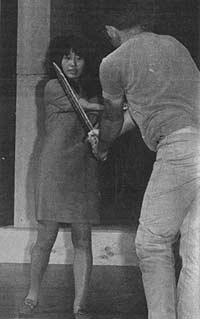 Nobuko Saito Cleary instructs the cast in authentic Samurai warfare in preparation for a performance of "Rashomon" at Northeastern in 1969.
On her graduation from Northeastern:
"At my commencement at the Boston Garden, the professor called my name and I was told that I was the first Japanese person to earn an English degree at Northeastern University. That was my moment of discovery. I was able to complete my dream."
Listen to the full clip.

On adapting to student life:
"Most of the students that I saw at Northeastern University were very independent and self-supporting…Very basic things that everyone else seemed to be doing so easily were complex for me. I had to struggle."
Listen to the full clip.

On living with a host family during her time as a student:
"I lived in Carlisle, which is very remote, it's a very historical area because it was next to Concord. My sponsor was a Minuteman, so I was close to that American history. [Minutemen live much as they did in the late 1700s, without many, if any, modern conveniences] But it was hard the way I lived… I took that experience as a very good experience to learn. And so, I enjoyed that."
Listen to the full clip.

On being a student during the Vietnam War era:
"I was at Northeastern University from 1968 til 1970. The U.S. was in the middle of the Vietnam War and Bobby Kennedy was assassinated, and people were very uneasy and restless…It bothered me a lot when classes were cancelled and the students did not show up, The Kent State riots spread across all over the campuses in New England, including Harvard, MIT, and BU, and including Northeastern University. Everyone was arguing politics and protesting. I was brought up not to argue but I found myself having to defend going to class, and this made me very strong."
Listen to the full clip.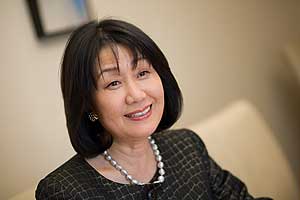 Nobuko Saito Cleary graduated in 1970 with a bachelor's degree in English and a concentration in linguistics.
On forming friendships at Northeastern:
"I didn't find that the difference of cultures was a problem to me. I think that to find a friend, my personality was the one – it may be a little bit related to culture – I was shy. I didn't know what I could speak to the stranger, but I was very lucky to find a friend who helped me to understand what American student life was all about."
Listen to the full clip.

On remaining connected as an alumna:
"I try to attend alumni gatherings as much as possible, and assist where I can to return to my school. I have donated for the foundation of the Asian American Center at Northeastern University, which is very important to me because I work in cross-cultural communications…I was very happy that I was part of it."
Listen to the full clip.

On the role Northeastern played in shaping her professional and personal life:
"I learned differences that have enabled me to have a successful career as a professor, and in also in my cross-cultural consultant firm. My professors motivated me to think for myself, to speak up, and also to defend my position on an issue…I hope someday that my grandchildren will take this challenge and realize and say, 'Oh boy, Nana sure did a good job following her dream at Northeastern University.' That would be time that I think: 'I did it.'"
Listen to the full clip.

This interview is available in its entirety in the Northeastern University Archives. Photos: Nobuko Saito Cleary, Heratch Ekmekjian, and The Northeastern News - October 10, 1969.