On why she came to Northeastern for graduate school after finishing her bachelor's at Radcliffe College: "I had to get a teaching certificate, so I looked around, and the quickest way to do it was to go to Northeastern. So that was sort of a different thing, but it was very broadening for me."
Listen to the full clip.

On her favorite Northeastern professor she had as a student: "The person I liked the most – actually I took a summer course … in Burlington – he was very nice and encouraging."
Listen to the full clip.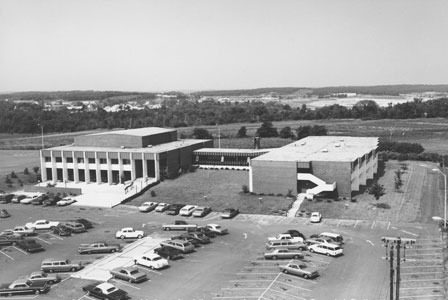 Northeastern's Burlington campus in the 1960s.
On getting an interview because of her Northeastern degree: "She [a potential employer] said, 'I want to see your resume.' … Then she called me up all excited, and she said, 'I hear you've done something at Northeastern!' And I said, 'Well, yes, they were very good to me,' and she said, 'Well, I'm very high on them. Let's talk.'"
Listen to the full clip.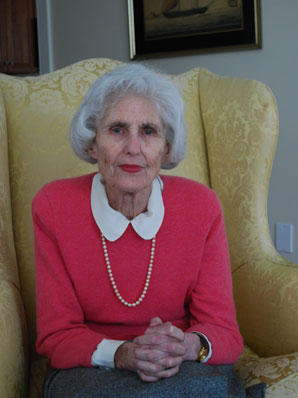 Ruth in her Massachusetts home.
On why she supports Northeastern's library with her philanthropy: "They asked me what I'd like to do, and I said I'd like the library. As I said to somebody who was perfectly horrified, 'You can have your TV. You can have your texting. You have your this and your that. But really for me, the best thing is to read.'"
Listen to the full clip.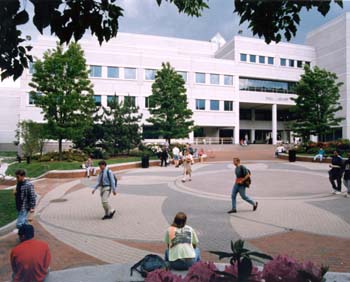 Snell Library in the 1992.
On how she became a Trustee: "I remember I was living down in Harbor Towers, and the phone rings. He [then Board of Trustees Chairman] said, 'I'd like to ask you to become a member of the Board of Trustees … and Charlotte [Smith, a former trustee] was pushing. She said, 'We need more women!' So finally, I thought, 'Well, I've had a good time so far. Maybe I'll continue to have a good time.'"
Listen to the full clip.

On her Northeastern education: "I've always made a big point that [education] is, I think, one of the most important things. I've seen what people are able to do, particularly the group I met at Northeastern. But the thing that means the most to me is that I had a very good education."
Listen to the full clip.

This interview is available in its entirety in the Northeastern University Archives. Photos: Office of University Advancement, and Libraries Archives and Special Collections Department. Compiled by Jessica Melanson.