Biography - Neal F. Finnegan, BA'61, H'98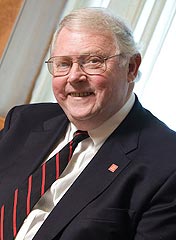 After completing 10 years as Chairman of the Northeastern University Board of Trustees in 2008, Neal Finnegan, BA'61, H'98 can lay claim to a unique perspective on the machinations of a world-class University. A graduate of the College of Business Administration with a degree in finance, he embarked on a long and rewarding career in the world of finance but never strayed far from Huntington Avenue.
Neal became a member of the Board of Trustees in 1989, and was named Chairman in 1998. He has been a member of the Northeastern Corporation since 1982. As the chairman of the Board's Financial Affairs Committee, Neal helped steer the University through a financial restructuring in the early 1990s, leaning on decades of senior leadership experience in financial institutions like U.S. Trust, Shawmut Bank, and Citizens Bank.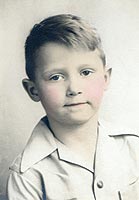 A Massachusetts native, Neal Finnegan grew up in the Dorchester neighborhood of Boston.
 Neal headed a trustees' committee in the 1990s that helped forge a new blueprint for the University that resulted in a major building program, a more selective admissions process, and some difficult but necessary budget-cutting measures. As a result, Northeastern has regained its reputation as one of the top universities in the world.
Now the chairman emeritus, Neal remains an important part of Northeastern's future. A history buff well-versed in the storied pasts of Boston and his alma mater, he was instrumental in the construction of the Veterans Memorial honoring Northeastern alumni who made the ultimate sacrifice in armed conflict. Upon retiring from the Board of Trustees in 2008, Neal was awarded the first ever Presidential Medallion, which is the highest honor bestowed upon a member of the University community.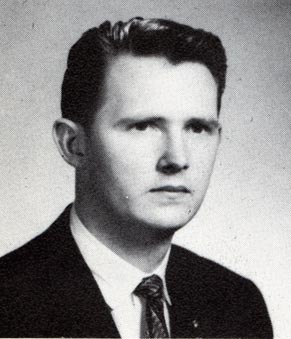 Neal Finnegan graduated in 1961 from the College of Business Administration with a degree in finance.
Neal spent many years as an executive member and trustee of WGBH Public Television; he was vice chair and is currently a trustee of the Massachusetts Multiple Sclerosis Society; is the past chair of Catholic Charities; a board and executive committee member on the Caritas Christi Board of Governors; a board member at Catholic Television; director of TERI (The Education Resources Institute); and a founding charter member and director of the Ireland Chamber of Commerce in the United States. Neal serves on the Board of Directors of Hanover Insurance Group; The Bostonian Group, and SolutionInc Limited. He is also an avid competitive sailor, racing several thousand miles each year.
Neal is a native of the Dorchester section of Boston, and has two daughters: Theresa Finnegan Lynch and Lynn Finnegan Judge; two sons: Neal F. Finnegan III and Wayne Finnegan; and many grandchildren.
Photos: Neal Finnegan and University Libraries and Special Collecetions Department.