On the more urban, commuter-based campus he experienced at Northeastern in the 70s: "There was a lot of parking lot ... the campus that everyone knows today did not exist. The newest building was the Knowles Center at Forsyth and Huntington, where the law school and the criminal justice school were at the time."
Listen to the full clip.

On being one of only a handful of law graduate students with no prior work experience in the field: "At the time I went, most people coming to Northeastern had worked for several years and made the career choice to become a lawyer. There were only three of us that went from college to law school in my class. So I wasn't looking at a room full of contemporaries, or what I perceived as my peers — I felt like a kid."
Listen to the full clip.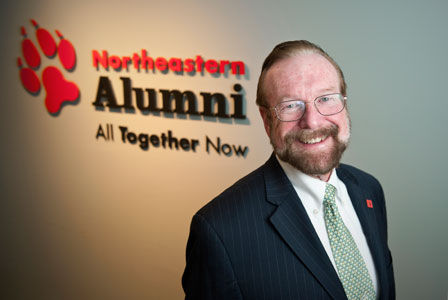 Kevin in a recent visit to Northeastern's Alumni Center.
On the isolation from the rest of campus he experienced as part of Northeastern's School of Law: "Going to the law school was a bit like being on Gilligan's Island; the outside community found you when they needed you, and other than that you were on this lost little island with your group of contemporaries, totally separate and distinct from everything that happened on campus."
Listen to the full clip.

On his father William Fitzgerald, also a graduate of the Northeastern University School of Law, and his father's struggles with maintaining a full-time job as a legal clerk while attending law classes: "He literally would get up in the morning, walk over to his boss's house, shovel coal in the furnace, get the house going with heat, go home, change his clothes, go back, settle the cinders, [and] have a cup of coffee in the kitchen while his boss had breakfast and got dressed. [Then] he'd warm up the car and drive him downtown to his law practice. He'd work all day in the law practice, whether it was filing documents in court or doing research, drive him home, then he'd take the T to come to school, [which was] in the Y at the time."
Listen to the full clip.

On the creation of his father's business, Fitz Inn Auto Parks, Inc.: "My father figured out how much the current operator was making and bid that. And then raised the parking rates. At that point he was shipped overseas, and when he came back his mother was wearing a mink coat while she was running the parking lot that she didn't have when he left."
Listen to the full clip.

On his childhood job working for his father and on Boston during the 1960's: "I started working at 10 years old for my father. I was the equivalent of a fax machine: he'd dictate a letter to his secretary, she'd type it, put it in an envelope, and I would run it anywhere it the city it had to go."
Listen to the full clip.

On his father's philosophy and how it relates to the education Fitzgerald received at Northeastern: "Well, diligence you find within yourself, and skills are learned and acquired from others. And that, to me, is why places like Northeastern are critical, because you're not just obtaining your skills from the classroom; you're getting them from the practical resources of the co-op program. That's an opportunity that is not afforded [to] a lot of people, and it's in my mind severely underrated by those who haven't gone through it."
Listen to the full clip.

On some of his more memorable professors: "John Flynn was also someone who made a significant impression on me. I had signed up for a trial practice class that he was teaching, and during the first class – it was a nighttime class – I fell asleep for about five minutes. At the end he called me over and very quietly told me that I had a spot that he could have chosen 20 other people for, and I'd better never fall asleep in his class again. And I didn't."
Listen to the full clip.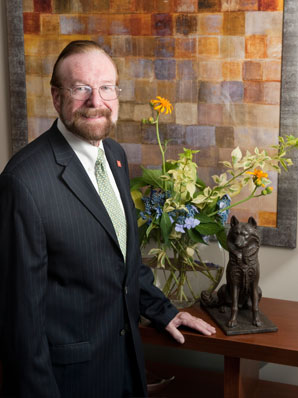 Kevin in a recent visit to campus.
On his efforts as chairman of the law school's development campaign to create a greater sense of connection with law school alumni to the university: "I realized that, again, we were being too insular, too parochial, [so] I would rent Kinko's video rooms and get people from Alaska and New York and Washington in video conferences together, recognizing that my goal really wasn't to raise the target amount of money, but ... [to] get law school alumni involved with the school who were no longer able to drive by and wave."
Listen to the full clip.

On what drives him to give so much of his time and support back to aid Northeastern students: "I appreciate the fact that not everyone has had the same opportunities that I have had. I could work for Cambridge and Somerville Legal Services and functionally not get a paycheck, because by that time my father was doing well enough at the time to help me with my rent and I pumped gas on weekends, and did other jobs on weekends. My first two co-op jobs paid enough for me to live on and pay my bills during that time. For me, looking at these opportunities for paying people to take these public interest jobs that the government had stopped paying for, that would not be available to have the experiences that I had — that would actually help people."
Listen to the full clip.

On how representing clients pro bono as part of Cambridge and Somerville Legal Services made him want to give this opportunity to future law students: "That gentleman, whose life was destroyed through a horrible set of avoidable circumstances — he needed help. The government program that paid me $45 a week to be an attorney on his behalf in 1970 no longer exists."
Listen to the full clip.

On how technology has changed the dining industry during his time managing the Jacob Wirth Restaurant, LLC: "If you're forty or over, you typically would have had date nights with your girlfriend or wife and would continue to do things as couples, or maybe with another couple. But the youth of today spends so much time working on computer terminals and with [a] lack of actual human interaction that they tend to dine as a group, and they dine out more often. So the business has gone from couples to sixes, tens, twelves [for] dining."
Listen to the full clip.

This interview is available in its entirety in the Northeastern University Archives. Photos: University Advancement Office. Compiled by Jessica Melanson.