On why he chose to attend Northeastern:
"I was the first one in my family to go to college. In fact, I was the first male in my family to graduate from high school. I grew up in a family that, while they had not been well-educated, really valued education."
Listen to the full clip.

On the Northeastern environment and how he decided to become a history major:
"I came here, got off the Green Line, and came onto campus. I had never visited this place before I came here. Before I arrived here in September of 1962, I had not done the campus tour…I didn't get to pick my courses, they were picked for me."
Listen to the full clip.

On the evolution of Northeastern since his student years:
"We all commuted. The activities here more or less ended at about five o'clock. It was a nine to five kind of place. At least for me it was and for most of my friends."
Listen to the full clip.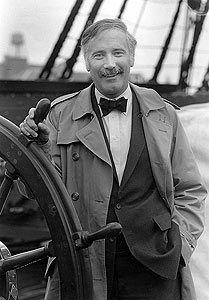 Bill Fowler chaired the Department of History from 1993-1997, at which time he accepted a position as director of the Massachusetts Historical Society. He returned to Northeastern in 2005 as a Distinguished Professor of History.
On his Northeastern professors encouraging him to apply to graduate schools:
"It was my teachers here who pushed me to apply to graduate school. You can imagine what that must have been like. Being the first in my family to go to college, graduate school was like another galaxy."
Listen to the full clip.

On his career at Northeastern as a faculty member:
"I got a call from the chairman of the department, Ray Robinson…Ray said, 'Would you like to come back to Northeastern?' I was just stunned."
Listen to the full clip.

On his co-op experiences at the National Archives in Washington, DC:
"This was a huge leap for me, and I can remember the first time I went down—this would have been 1963—my mother and father taking me to the airport. It was a big thing. I think this may have been the second or third time in my life I'd flown in an airplane, let alone be going away for however long."
Listen to the full clip.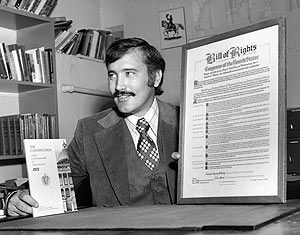 Bill Fowler graduated in 1967 with his bachelor's degree in history, and began his teaching career at Northeastern in 1971.
On marching with Martin Luther King in the 1960s:
"I marched with Martin Luther King when he came here to Boston. I remember that because there were a group of us, history majors—people I'd been in class with—and so, there was a march down Boylston Street, I think it was."
Listen to the full clip.

On commuting to Northeastern as an undergraduate student:
"I carpooled for the most of my commuting life here. I did not own a car until my senior year…so, I always carpooled with somebody. It was the same old routine, seven o'clock in the morning the horn would ring out front, and I'd go out and I'd get in the car, maybe three or four of us; and then we'd come on down into Boston every day."
Listen to the full clip.



On how Northeastern's physical campus has changed since the 1960s:
"The worst place to have a class was the Botolph building because it was so close to the railroad tracks. No air conditioning, by the way; nothing at the time was air conditioned. The Cabot building, the gymnasium was there; that had gone up in the 1950s, but everything else that we see now is the product of the years after I left."
Listen to the full clip.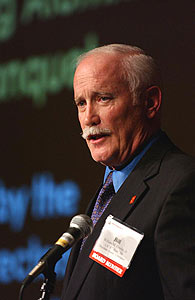 In addition to teaching, Bill Fowler is an active University alumnus. He was presented with Northeastern's Outstanding Alumni Award in 1994 and is a past president of the Alumni Association.
On Northeastern's responsibility to its students and community:
"We've got to move forward, but we've got to move forward in a way that improves the place and still somehow serves that basic educational need which is urban and co-op. I do believe the heart of the place is urban and co-op."
Listen to the full clip.

On his commitment as a faculty member at Northeastern:
"I loved teaching the survey course to freshmen and underclassmen because that's the place where I think I can make the biggest impact. It's there that I have men and women, most whom are not history majors, and it may be for many of them the only history class they have."
Listen to the full clip.

On his tenure as director of the Massachusetts Historical Society from 1998 through 2005:
"I would on occasion, often actually, just walk through the stacks alone. I just enjoyed walking through the stacks…I would be able to hold George Washington's Newburgh Address, I'd be able to hold out the Dunlap printing of the Declaration of Independence, to pull out the copy of the Constitution of the United States which was sent to Massachusetts for ratification…I loved working there, absolutely loved it!"
Listen to the full clip.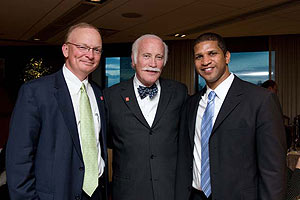 Bill Fowler (center) with Jack Moynihan, Vice President of Alumni Relations and the Northeastern Fund, and Garrett Lee, the current president of the Alumni Board.
On meeting former president George H.W. Bush while director of the Massachusetts Historical Society:
"That was a wonderful experience because I got to go to the Bush Library, and to have lunch with President Bush and Mrs. Bush…I had a very, very interesting time at the Historical Society."
Listen to the full clip.

On college campus environments during the late 1960s and early 1970s:
"I left here, Northeastern, in 1967 and went to Notre Dame that year. I was at Notre Dame for the most tumultuous years, and Notre Dame did not escape that by any means...[In the spring of 1970] there was a huge rally in the middle of quadrangle, and there must have been five, six, seven thousand students there."
Listen to the full clip.

On being chairman of Northeastern's Campus Campaign from 1985 to 1988 and raising funds for the construction of Snell Library:
"We did, in fact, raise a million and a half dollars. The million and half dollars came exclusively from people on campus, from faculty and staff. It was an extraordinary accomplishment and an extraordinary demonstration of generosity."
Listen to the full clip.

On why he returned to Northeastern as a faculty member:
"I came back here because I knew that this was a place I belong professionally…I do realize now that I knew then that it was a good place for me, and a place where I could make a difference because of where I came from…In a sense, more than ever, I want to be a part of it."
Listen to the full clip.

This interview is available in its entirety in the Northeastern University Archives. Photos: Carla Osberg Photography, University Libraries Archives and Special Collections Department, and the Office of Alumni Relations.