On choosing Northeastern:
"A fellow who I was playing ball with said, 'Where are you going to go to college?' I had already committed mentally, because of family circumstances, that I was going to go to night school. Grind out six or seven years of night school."
Listen to the full clip.

On how the co-op program made attending college possible:
"My mom really emphasized education … my dream was to go to a day school and the co-op method really made it possible."
Listen to the full clip.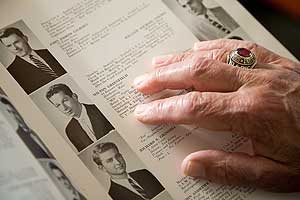 A proud Northeastern alumnus, Milt Greenfield still wears his 1955 class ring.  
On his career aspirations while at Northeastern and his fellow students:
"There were two fields that I had thought about – and one of which is where I ended up – being a CPA and an accountant…I was mostly interested in accounting because I was good in math. Or I had a liking for math, I don't know how good I was!"
Listen to the full clip.

On his co-op experiences:
"I think you learn not only what you like to do, but you learn what you might not like to do. I think that's really important because, even at my age today, I'm still working…You grow up faster when you're in the co-op program. You see what's going on in the real world."
Listen to the full clip.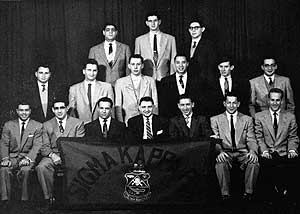 Milt Greenfield with his Sigma Kappa fraternity brothers. He is seated in the front row, second from right.
On his life as a student commuting from Dorchester:
"I just felt lucky to be in a day school, so I was oblivious to the fact that I didn't live in a dorm…The school was pretty much: you go to school, take your book, go to classes, listen to what [the professor] says, take the books home, study, come back again the next day. But I liked it. I liked that."
Listen to the full clip.

On representing Northeastern at college fairs:
"I still do college fairs [and] I don't expect any 17-year-old to relate to my experience…I'm careful when I go there. I usually say, 'Well, you know, I'm a recent grad of 54 years ago! But I want to tell you what a life experience was for me, the importance that Northeastern has for me.' I have to tell you, I just love this school."
Listen to the full clip.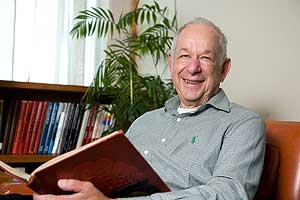 Milt Greenfield remains very active in Northeastern's alumni community, volunteering at college fairs and speaking with prospective students.  
On continuing to be involved with Northeastern as an alumnus:
"I feel blessed. I've done nicely in my professional career and I just want to help people keep on going, young people. The future's the youth, you know… I love being around young people."
Listen to the full clip.

This interview is available in its entirety in the Northeastern University Archives. Photos: Heratch Ekmekjian and University Libraries and Special Collections Department.