Biography - John "Jack" P. Grinold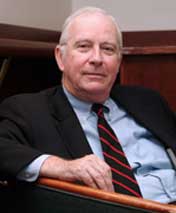 John P. Grinold is known in many different circles by many different names - the De Facto Dean of New England Sports Information, Husky Sports Ambassador Nonpareil, the Voice of Northeastern, or just Jack - but whatever you call him, Jack is and has been a pillar of the Northeastern community for a long time.
Jack found his way to Northeastern in 1962 shortly after graduating from Bowdoin College. Following a stint with the merchant marines, he accepted a position at Northeastern as the director of sports information. Jack has stayed at his post for nearly five decades and has grown it into one of the most important parts of the athletics program, while becoming one of the best sports historians and promoters in New England.
In 1985, the University recognized Jack's many contributions by making him the first non-athlete or non-coach inductee to the Husky Hall of Fame. In 1998, Northeastern honored Jack again as part of its centennial celebration, naming him as one of the 100 individuals responsible for the institution's growth and continuing standard of excellence.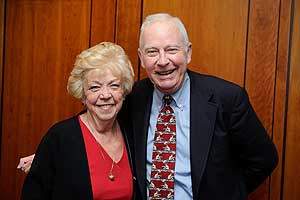 Cathy and Jack Grinold at the 2008 Northeastern University Night at the Pops.
Outside of the Northeastern community, Jack is just as revered. In 1971, he was awarded the inaugural New England Sports Information Directors Award for Excellence. He has been a dedicated and active member of College Sports Information Directors of America (COSIDA), which gained him a spot in its hall of fame. Jack is the former president of the Eastern Massachusetts chapter of the National Football Foundation and Hall of Fame, which is now named in his honor. He is also a member of the New England Basketball Hall of Fame, the chairman of the New England Collegiate Writers Association for the past 38 years, and has been honored by Boston University as the only non-media member to receive their Scarlet Quill Award.
Jack's reputation as a world-class sports historian has earned him appearances on numerous television and radio shows. His historical zeal, however, does not end with sports. Jack sat on the Arts Committee at the Massachusetts Historical Society, is a member of the Colonial Society of Massachusetts, and is a life member of the Boston Athenaeum. He is also the former director of the Gibson House Museum, the second Vice President of the Victorian Society (New England Chapter), and the chairman of their Preservation Award Committee.
In 2008, Jack made a gift to Northeastern providing future endowed support to the operations of the athletic program. His generosity symbolizes the University's commitment to athletic excellence and to raising the resources to assure the program's long term success. Made in the form of a charitable gift annuity, Jack's gift is the largest contribution to athletics made to date by a University staff member.
Jack and his wife, Cathy, reside in the Boston area.