On how he chose Northeastern's Graduate School of Professional Accounting: "I was going to law school in Washington and really wasn't happy. I decided that I didn't want to be a lawyer, and I took some night courses at the university while I was there in accounting and enjoyed it … I contacted the [GPSA] office at Northeastern… The class had just started, so I missed that year. I waited until the next year and called in June of '67."
Listen to the full clip.

On his experience as a student at Northeastern: "Back in the day, the on-campus experience was a little different for us because we were one group. We stayed together—same classroom, every day while we were in school, and then we obviously split up into different firms for the co-op period, and then back to that classroom again."
Listen to the full clip.

On his accounting internship: "The internship was very valuable. It gave you a hands-on, real-time look at what goes on in the busy season in a big accounting firm."
Listen to the full clip.

On how Northeastern's campus has changed: "You really can't appreciate what the university has done unless you would find a picture from the days when I was there as a student. Where Snell Library, Snell Engineering Center [are] … there was a dirt parking lot. It wasn't even paved."
Listen to the full clip.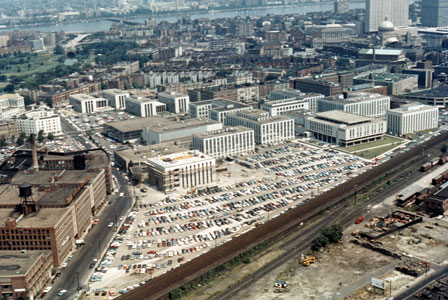 Northeastern's Boston campus in 1965.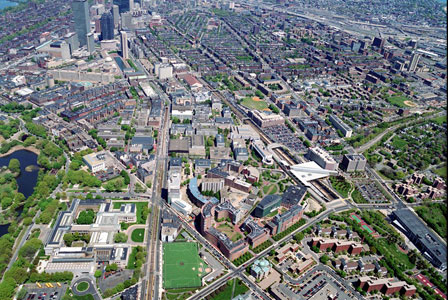 Northeastern's Boston campus in 2003.
On having Northeastern co-ops working in his firm: "On a regular basis, we had co-op students from Northeastern … I enjoyed that part of my school experience, so I felt that if we could do it with others, it'd certainly be helpful to them."
Listen to the full clip.

On why he set up a scholarship for Northeastern business students: "My dad always told us that, whatever education we wanted, he would pay for it and that was going to be our legacy. Education was very important to both my parents. So, in honor of them, I just thought it was the right thing to do."
Listen to the full clip.

On why he supports and volunteers for Northeastern: "The one thing that Northeastern gave me was a real entrée into what became my profession, my life's work, and for that I am very grateful. Those of us who have been through it really, deep down, ought to find a way to help, going forward."
Listen to the full clip.

This interview is available in its entirety in the Northeastern University Archives. Photos: Board of Trustees Office, and University Libraries Archives and Special Collections Department. Compiled by Jessica Melanson.