On affording Northeastern tuition coming from a Depression-era household: "It was obvious since there was no money in the family that I was not going to college. But just by chance the director of admissions from Northeastern, a guy named Milton J. Schlagenhauf, came by Falmouth and gave a talk, and [to] make a long story short he gave me a grant of $100. And that got me thinking about going to college, because the tuition at Northeastern then was $125 per semester."
Listen to the full clip.

On the value of a Northeastern education even when it was considered a blue-collar school: "We were a little bit defensive of being Northeastern students; it was a class thing, more or less. [That was] until World War II. Then, we got thrown in with kids from all over the country and lo and behold we found that we could hold our own, and [that] we got a damn good education at Northeastern that was equivalent to what they were giving in these very fancy schools all over the United States of America."
Listen to the full clip.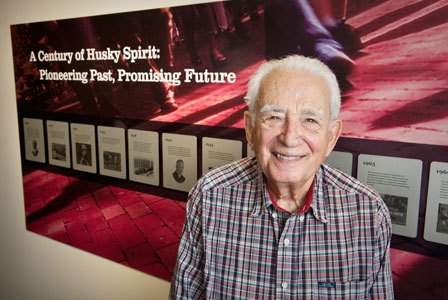 George Kariotis, in a recent visit to Northeastern campus.
On the pros and cons of the co-op program and his first co-op with the Boston Edison Company: "There's a real hidden value to co-op that most people don't think about. That is, one: it allows the student to calibrate the company, whether he or she wants to work there again, and two: it also allows the company to calibrate the student."
Listen to the full clip.

On the advancement and growth of Northeastern's campus since the 1940s: "We didn't have a campus, you must understand. For example, [in] my calculus class in the rear of Richards Hall, the railroad tracks ran right behind it and when the train came by — we had no air conditioning then, so the windows were open — the whole class stopped until the train left, because you couldn't hear anybody then."
Listen to the full clip.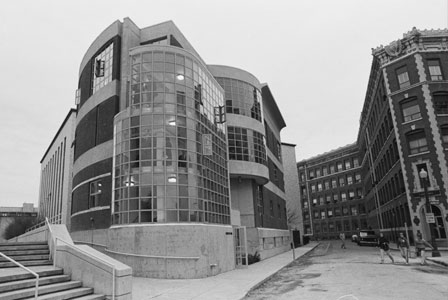 George S. and Ellen Kariotis Hall in 1982.
On the risks of starting and developing Alpha Microwave after graduating with limited funds: "We had to start with our own money, and the way that we did that was we decided, we founders, that we couldn't pay ourselves any salary, because it would be depleting what little resources we had. So we went salary-less for six months before we started to pay ourselves some money."
Listen to the full clip.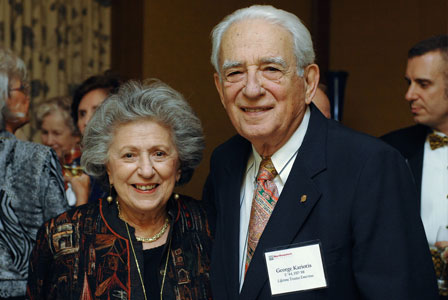 George Kariotis with his wife, Ellen.
On his unusual introduction to Massachusetts politics through ex-governor Ed King: "By accident, through the Mass. High Technology Council, that we were members [of], I met Ed King, who had just beaten Mike Dukakis. I never voted for him. I didn't even know Ed King. I was very impressed with his pro-business attitude, and he asked me to join his cabinet, which was a shock! An even bigger shock was that I said, 'Yeah, I'll do that,' without even talking to my wife. I thought she was going to kill me when she found out."
Listen to the full clip.

On what inspired him to become such a generous donor to Northeastern: "For a lousy hundred bucks, [Northeastern] opened up my ability to go to college. Now this is my way of paying back a hundred bucks."
Listen to the full clip.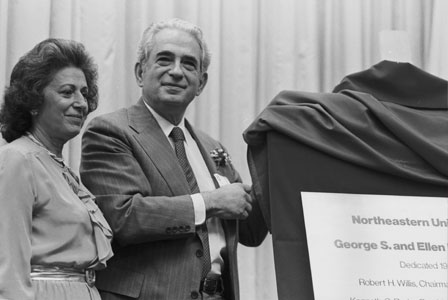 Mr. and Mrs. Kariotis at the dedication of the George S. and Ellen Kariotis Hall on campus in 1982.
On his views of the progress and advancement of Northeastern under the leadership of President Aoun: "Well, the future's looking bright. This fellow Aoun is obviously one that looks way down the road as to what we want to be, and his sights are up there. So I think that's a positive sign."
Listen to the full clip.

This interview is available in its entirety in the Northeastern University Archives. Photos: George Kariotis, University Libraries Archives and Special Collections Department.