On being a native of the Boston area and why he chose to attend Northeastern:
"I looked at a number of schools but there were two things that really attracted me to Northeastern. The first was the co-op program, a program that I believe offered an excellent opportunity to gain experience in my field, and to make professional connections. The second thing that attracted me to Northeastern was the location."
Listen to the full clip.

On his undergraduate experience and being a "Double Husky":
"I had some really great professors who challenged me. The University also provided some great opportunities for undergraduate students. I tried to take advantage of as many of those opportunities as I possibly could. I studied abroad, participated in the Honors program. Overall, I think I was pretty happy with the way academic life worked at Northeastern at the time."
Listen to the full clip.

On his co-op experience:
"I really enjoyed my co-op experience. My first co-op was with the Museum of African-American history on Beacon Hill. I took visitors on tours of the African Meeting House and assisted the museum curator with programming. It was a great experience."
Listen to the full clip.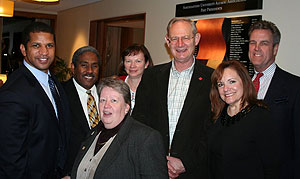 Garrett Lee joins alumni, faculty, and staff at a First Thursdays event. The event is held on the first Thursday of each month in the Alumni Center.
On extra-curricular activities while a student:
"The participation now is a lot higher than it was then. Only because back then, less students lived on campus. But there was always a pickup game that you could jump into."
Listen to the full clip.

On being a student at Northeastern during the first Gulf War (1990-1991):
"When I was a freshman, that was the year of the first Gulf War…On campus, there were a few protests, small protests. I wasn't around during the Vietnam time, but nothing like what I had read in my history books about the Vietnam War when you had these massive protests. But there were a few quiet protests on campus, candlelight vigils, things of that nature."
Listen to the full clip.

On how Northeastern's campus has changed as it evolved from a commuter school into a residential college:
"When I visit campus now it's really amazing to me to see how many students are around at night, after classes are out. The campus is filled with activity…It really has solidified Northeastern as what you'd say a traditional college campus, a school that can provide the traditional college experience."
Listen to the full clip.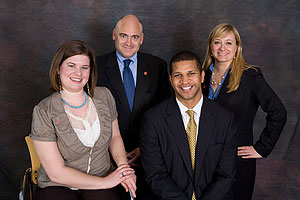 Garrett Lee stops with fellow Alumni Board members Jim Gallagher, BHS'81 and Herby Duverné, CJ'98, MJ'02, along with John Gallagher (class of 2010).
On the benefits of a residential campus:
"Most of the top students these days are looking for the full college experience. In order for NU to attract more of the top-performing students, it needed to build more on-campus housing. Studies also indicate that students who live on campus tend to be more satisfied with their college experience, and are more likely to develop a sense of belonging to the institution."
Listen to the full clip.

On returning to Northeastern to pursue his law degree:
"I always wanted to be a lawyer, and that's one of the reasons why I chose history as my major. I thought it would be good preparation for law school…I knew that if I did the right things, studied hard, made the right connections on co-op, that I'd have an excellent chance of getting into law school, which turned out to be the case."
Listen to the full clip.

On becoming president of the Alumni Association:
"I went to this meeting and there were different ideas discussed about what we can do to bring more alumni back to campus. One idea that I came up with was, why don't we start a networking program for Northeastern alums, a professional networking program…Because of my work on that program, I was asked whether I wanted to serve as president for two years of the Alumni Association."
Listen to the full clip.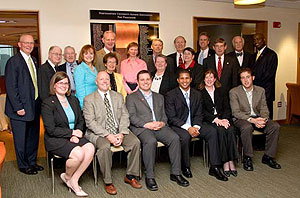 Past Alumni Board members pose with current members at the Past Alumni President's Plaque dedication event.
On the importance of a strong alumni network:
"What I've found is that networking today is key to success. The more people you know, the more likely it is that you are going to have a network that's supportive of you, the more likely it is that you're going to have people who will be able to help you progress in your career."
Listen to the full clip.

On how his Northeastern degrees influenced him both personally and professionally:
"I owe much of my success to my Northeastern education. The faculty at Northeastern provided me with a strong academic foundation, and the co-op placements gave me practical experience in my field of study…I have to say that I'm really proud to call myself a Husky."
Listen to the full clip.

This interview is available in its entirety in the Northeastern University Archives. Photos: Carla Osberg Photography and the Office of Alumni Relations.