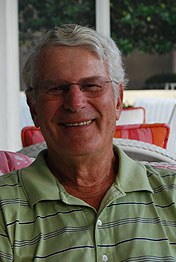 Reflecting on his time as a Northeastern student in the 1950s, Dick Lesser credits coop for launching his highly accomplished career in the retail industry. This "remarkable good fortune" as he calls it, led Dick to several co-ops at Filene's, and after graduating with a degree from the College of Business administration, he landed a full-time position at his co-op employer.
A native of Newton Center, Massachusetts, Dick's success at Filene's led him ultimately to The TJX Company and to his position as President of T.J. Maxx and Marshalls. Dick also serves on various business and philanthropic boards.
Dick is an active Northeastern alumnus, joining the governing board in 1995. During his years as a university trustee, he served on the Governance Committee and the Financial Affairs Committee, and chaired the Subcommittee on Facilities. Dick was elected to emeritus status in 2007.
Dick and his wife, Clare Lesser, L'84, have invested generously in the university and its students. Together, they are educating future generations of Huskies through the establishment and continued support of the Lesser College of Business Administration Scholarships and School of Law Scholarships.
The Lessers reside in Florida and Massachusetts.