On Northeastern school environment when he was a student: "At first it was serious. Most of the kids were probably first generation in their family going to college, and it was a serious place."
Listen to the full clip.

On his co-op at Filene's: "So I went to Filene's. I got paid $35 a week, $29.67 after taxes, and if I worked at night, a dollar for supper money. And I went home and complained to my mother, and she said, 'What an opportunity. Boy, you should pay them.'"
Listen to the full clip.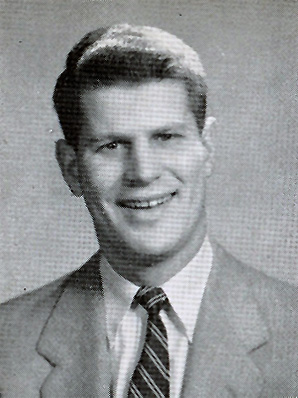 Dick's 1957 senior portrait from the Cauldron yearbook.
On how his co-op shaped his career: "I had remarkable good fortune from co-op and because it gave me the opportunity to do something productive that I enjoyed."
Listen to the full clip.

On working in the school bookstore with former manager Mary Foor: "I worked in the school bookstore. The manager of the school bookstore never hired students. One day I was standing in front of the case telling whomever was there how I would display something … She said, 'Well if you think that you know so much, come around the counter.'"
Listen to the full clip.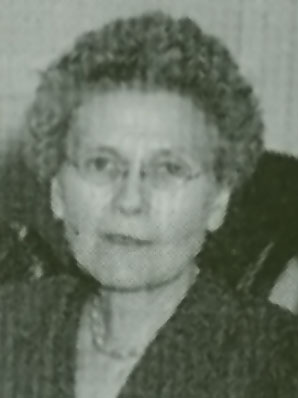 Former bookstore manager Mary Foor in 1956.
Recalling a black tie event he spoke at, regarding Northeastern's entrepreneurial spirit: "I said, 'You know, the one thing everyone in this room has in common is we came to Northeastern with nothing.' And then I got weepy, because when you think about it, and that's an all-American thing. Just think about an institution like that: No endowment, no wealthy alumni, a few  Noblesse oblige people, and what it has produced. "
Listen to the full clip.

On being a Trustee: "I sat in awe of what they were accomplishing, and the quality of the professors, and the quality of the Trustees, and the quality of the president, and the dedication of those people."
Listen to the full clip.

On what he would say to prospective Northeastern students: "I would say that if you're serious about life and education, that this is the most unique experience you can have. Take a look at the percentage of Northeastern students that were accepted in jobs after graduation last year versus the rest of the United States, and if that doesn't convince you, nothing can convince you."
Listen to the full clip.

This interview is available in its entirety in the Northeastern University Archives. Photos: University Advancement Office, and the 1956 and 1957 editions of the Cauldron yearbook.