On how he got the nickname 'Moose':
"During a high school scrimmage, I broke through and hit the passer pretty hard and one of my coaches said 'You hit like a moose.' "
Listen to the full clip.

On the University environment during the 1940s:
"First of all, we all dressed with shirt and ties and jackets, and our white buckskins or black and white shoes, or brown and white shoes. Everybody was impeccably dressed by today's comparison. And it was strange. Most of our classes were in the Y."
Listen to the full clip.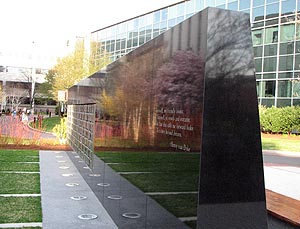 The Northeastern University Veterans Memorial.
On his tour of duty during World War II and playing football:
"My World War II duties started at Fort Monmouth, New Jersey, and that was in 1942. I think it was July. They were still paying us $21 a month…One night over the loud speaker came, 'There will be football tryouts.' So I said, 'what have I got to lose?'"
Listen to the full clip.

On meeting General Eisenhower:
"The second day I was there, General Eisenhower had come to visit the 52nd General Hospital. All of the nurses and the guys had us all strapped down, real tight you know to look nice and neat. The bed had no wrinkles. He walked in and he says, 'Get those blankets off those patients!' And he starts pulling blankets off because everyone is like a mummy."
Listen to the full clip.

On Northeastern's World War II Memorial and returning to school to play football after the war:
"That was one of the saddest things that happened to me when I came back to play in '46. Three of our starters that I played with in '40 and '41, Ted Krajewski, Bob White, and Bob Bartlett all got killed in the war."
Listen to the full clip.

On his start at Electrolux after graduation and his first vacuum cleaner sale:
"I answered a blind ad at the Hotel Continental in Cambridge and this fellow said 'I think I could use someone like you.' Now I didn't know what he was selling or anything else, he asked me to come back at twelve o'clock, which I did. When I got back at twelve o'clock, there were 30 other guys there…All they did was throw us in the cabs. 'Get in the cabs!'"
Listen to the full clip.

On being the first director of athletic development for Northeastern:
"One day I got a call from Northeastern asking me to come in for a telethon. So I came in. And I was having so much fun on the phone that they were interested in hiring me."
Listen to the full clip.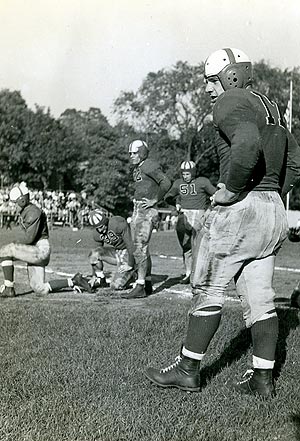 George Makris on the Parsons Field, where he was affectionately known as "Moose" for his bruising play.
On lettering in three different sports:
"Football I played—We played both ways back then. I was an offensive guard and a defensive tackle. Baseball, I was an outfielder. Hockey, I was a manager because all of my buddies played hockey. Suddenly one of the goalies got hurt and the other one was ineligible. So, I said to Herb, 'I'll go in the goal.' He said, 'You ever played the goal before?' I said, 'No.' So he looked at me and said 'You're kidding me.' He said, 'I'll tell you what Moose,' he said, 'just stand sideways and nothing will be able to get by you.'"
Listen to the full clip.

On returning to academic life after the war, the teachers who were 'guardian angels,' and Saturday night fraternity parties on South Huntington Avenue:
"When we came back after the war, we went right through. In other words, a semester would end on Friday and on Monday, a new semester would start. I don't even think we had the day after Thanksgiving off. We didn't have any breaks whatsoever. They just pushed us right through, which was good."
Listen to the full clip.

On student life in the 1940s:
"First of all, not too many people stayed on campus. It was a commuter school. As a result, when class was over, if you weren't involved with sports, you went home and you studied and you came back the next day and did the same thing. With sports it was a little bit different."
Listen to the full clip.

This interview is available in its entirety in the Northeastern University Archives. Photos: George Makris, Stephanie Schoen, and Glen Summit.