EARLY INFLUENCES
On growing up in a triple-decker on Boston's North Shore:  "I grew up in Revere, Massachusetts, at 21 North Avenue and I lived in the middle floor of a three-floor building. My grandmother and grandfather and a couple of their kids lived on the bottom floor, and a couple of their kids lived on the top floor."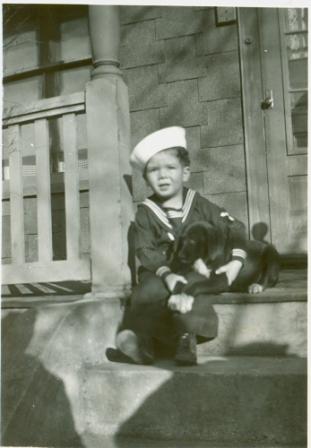 As a child in Revere, Massachusetts.
On his father immigrating to America from Italy in the early twentieth century: "My father came from Naples, Italy, in 1915; he was 17 years old. He claimed that in the first couple of weeks he lived in doorways in Boston, because he couldn't find a place to eat and sleep. So he had to get a job."
On his father being his greatest inspiration: "He has always been my hero. He was a hard worker. He was very studious. He read a lot. He read a lot of poetry. He was an art appreciator in that he had poems and artwork, and he loved opera."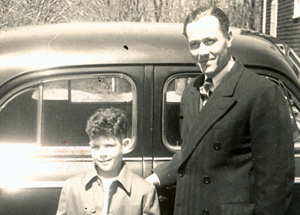 Roger Marino and his father, Anthony, on a Sunday morning in 1946.
NORTHEASTERN REFLECTIONS
On why he studied engineering at Northeastern: "I was really interested in science. I loved science when I was high school. In fact, I have a scholarship dedicated to one of my science teachers from high school at Revere High, Peter Cerasoli."
On how co-op made his Northeastern education possible: "Co-op is key. My father paid for my first two tuition bills which were $300 each per term. And I paid from there on in. They did supply me with room-and-board, because I commuted in a Volkswagen every day to school."
 On launching EMC with fellow Trustee Richard Egan, E'61, H'95: "I got a phone call from Dick Egan saying, 'I would like to meet at the Marriott in Newton.' That's where all good businesses meet, central location. We met one night and he said, 'Listen, you've been in a few companies. I've been in a few companies. Some have gone out of business. Let's start our own company and if it goes out of business, it's our fault.'"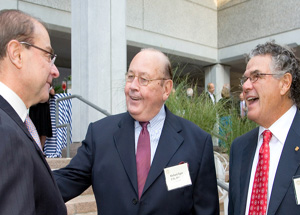 Roger Marino and Richard Egan (center) with President Joseph E. Aoun. 
PHILANTHROPY AND GIVING BACK
On the importance of giving back: "It's because I think you have to give back. I give back in two areas, health and education. And I work with Revere High and I give scholarships there, and I work with Northeastern and I enjoyed Northeastern.'"
Roger Marino with Torch Scholars.
On why he supports the Torch Scholars program: "I had a talk with Richard Freeland a while ago, and I sat down and said, 'You know this university is getting so popular and so good, people like me can't come here anymore.' And you have heard that a thousand times since then."
CAMPUS TRANSFORMATION AND GREAT MOMENTUM
On how much it means that the Marino Center was built close to where his father worked in a factory: "I said that in the groundbreaking speech, and there wasn't a dry eye in the house when I said it. It's pretty touching that you can build a building where your father used to work in a factory."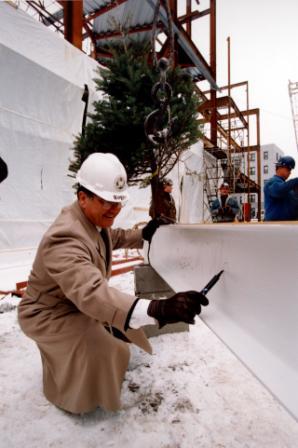 Singing a beam during the Marino Center construction.
On his first visits to the iconic Marino Recreation Center: "I was impressed. It, of course, bowled me over when I saw it in person. I will tell you when I really was bowled over—when I saw it at night, all lit up against the Boston background. That was just amazing. That's when it was really pretty."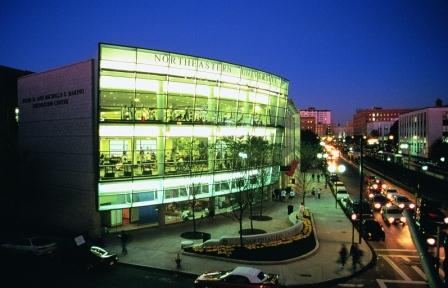 The Marino Center at night.
On Northeastern's physical transformation since the late 1950s: "When I was coming here, I never got lost. When I come here now, I get lost. That's really kind of an overview of what the difference is. I've taken pictures on my iPhone now of various parts of Northeastern that show how pretty it is. I want to show it to people."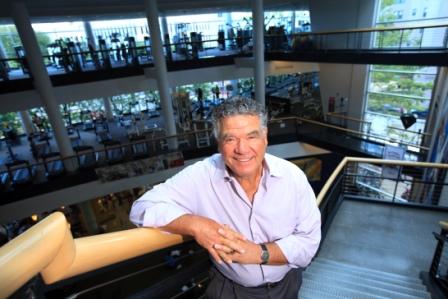 Roger Marino visiting the Marino Center.
On Northeastern's great progress and momentum: "I think the progress that I have seen through my years has just been spectacular. It would take a book to describe the type of progress that was made here through all of its presidents. I am really happy to see that this president (Joseph Aoun) can take it to another level, which I thought was impossible. And he is doing it."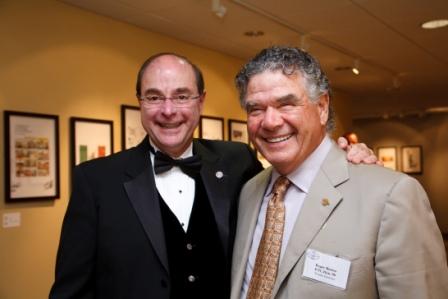 President Aoun and Roger Marino.
This interview is available in its entirety in the Northeastern University Archives. Photos: Roger Marino, Heratch Ekmekjian, and University Libraries Archives and Special Collections Department.