Biography - Dennis J. Picard, LI'59, UC'62, H'89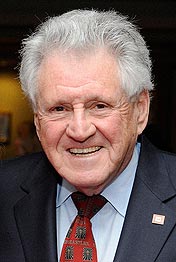 Dennis J. Picard is chairman emeritus of Raytheon Company, a major American technology leader specializing in defense, homeland security, and other government markets throughout the world. In August 1989, he became president of the company and in March 1991 chairman and chief executive officer. Dennis retired as CEO in December 1998 and stepped down as chairman in July 1999.
During Dennis's tenure as CEO, Raytheon doubled in sales. This growth was accomplished despite substantial downturns in global and domestic defense budgets, and a rapid consolidation within the defense industry. Dennis oversaw the acquisition of E-systems and Texas Instruments Defense, and the merger with Hughes Defense while simultaneously streamlining the company's diverse commercial operations.
A passionate advocate of cooperative education, Dennis has been instrumental in continuing Raytheon's long history of hiring numerous co-op students. As a result, the company has built a talent pipeline which has ultimately led to the full-time hiring of thousands of Northeastern graduates.
Through the decades, Dennis has been a generous supporter of Northeastern. He has established the Dennis Picard Engineering Legacy Scholarship, and in his honor Raytheon has endowed the Dennis Picard Trustee Professorship in electrical and computer engineering. Additionally, he has contributed to the construction of Snell Library, the Snell Engineering Center, and the Veterans Memorial, as well as contributing to the President Richard Freeland Scholarship, the Allen L. Soyster Engineering Scholarship, The Northeastern Fund, The President's Fund, and The Trustees Challenge Fund.
Dennis is a past director of State Street Boston Corporation, a member of the National Academy of Engineering, past President and an Honorary Fellow of the American Institute of Aeronautics and Astronautics, and a Life Fellow of the Institute of Electrical and Electronic Engineers. He is a registered professional engineer and holds honorary doctorates from Northeastern University, Merrimack College, and Bentley College. He is a trustee of Northeastern and trustee emeritus of Bentley; a past director of the Discovery Museums in Acton, Massachusetts; and a past member of the Advisory Committee of the American Red Cross, and the Advisory Committee of the Armed Services YMCA of the United States.
Dennis was born in Providence, Rhode Island, and graduated from LaSalle Academy in 1950. Following service in the United States Air Force during the Korean War, he joined Raytheon in 1955. He received his associate's degree in engineering from Northeastern's Lincoln Institute in 1959, and graduated cum laude from Northeastern's University College in 1962 with degrees in electrical engineering and management.
Dennis is married to the former Dolores M. Petit, and they reside in the Boston area. They have three daughters: Linda, Mary, BHS'06, and Sharon; and two sons: Dennis and Kenneth. Their grandson, Nathan Doherty, graduated from Northeastern in June 2008 with a Bachelor of Arts in Communications.