On how he got his start at Raytheon, and learned the company was hiring from a police officer who pulled him over on Route 28:
"I was in the Korean War and then after that I went to school in New York, the RC Institute, and became a broadcast engineer. I also taught there. I taught television in the night school, television repair that type of thing to Korean veterans."
Listen to the full clip.

On his career at Raytheon and building the world's leading missile company:
"I started at the lowest level of engineering possible. They didn't really like radio engineers, so they put me at a very low engineering level. I worked in a very creative environment. They gave me a great deal of freedom to design things."
Listen to the full clip.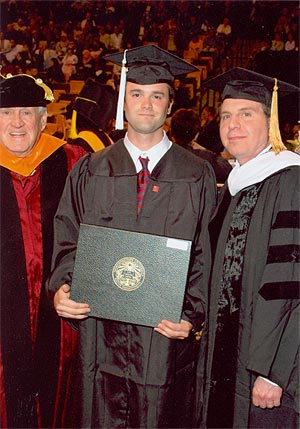 Dennis Picard, at left, presenting his grandson Nathan Doherty, BA'08, with his degree.
On giving back to Northeastern, naming a room at the library, and meeting his legacy scholars:
"I also gave a room up in the library. A little room. In my days at Northeastern there was no place to study or go. Somebody said to me one time, Would you like to put a little study room for students in the library? So if you go in the library, upstairs there's a little room."
Listen to the full clip.

On serving as a University trustee from 1991 to the present:
"We had some interesting issues. In the earlier years we had some really serious financial issues. The school was at a point where we were worried if we could meet payroll at one point."
Listen to the full clip.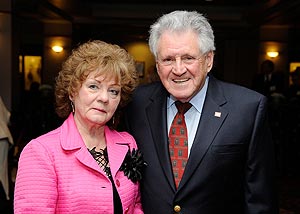 Dennis Picard and his wife Dolores at Northeastern University Night at the Pops in 2008.
On the engineering classroom in the 1950s:
"I was actually amazed at the quality of the instructors. Most of them came from industry, they were part-time instructors. I was a part-time student. They were very pragmatic in general."
Listen to the full clip.

On how the campus has changed since the 1950s:
"When I attended Northeastern there wasn't any room, there was just a few buildings. There wasn't room, there were so many night students, day students. There was always a problem with classrooms and a problem with places to study."
Listen to the full clip.

On the opportunities Northeastern has provided to its students:
"Northeastern provided an education, a way to success for people who had to work, raise families … Iin many cases many of the people were very successful that came out of that hard-working, hard-hitting environment."
Listen to the full clip.

This interview is available in its entirety in the Northeastern University Archives. Photos: Dennis Picard and Heratch Ekmekjian.