On how he decided to come to Northeastern: "I wrote to her [his wife, Genevieve] and said, 'I'll go back to school and get an engineering degree.' And Gen was a teacher, and she said, 'I'll continue teaching while you go to Tufts.' And I said, 'I'm 24 years old. I've got to get a job.' … Some of the people there work in field engineering and go to Northeastern nights. That sounded like a good idea."
Listen to the full clip.

On preparing for and serving in the Korean War: "At that time, the Korean War had just started, so clearly I was going to go to that … I went in late December to basic training. I applied for [Officer Candidates School (OCS)], went to OCS, got my condition on the Saturday we got married, and three months later I was in Korea."
Listen to the full clip.

On working full-time at Boston Edison while taking night classes at Northeastern: "I graduated in 1957. I think that those four years is a blur: work, go to school, work, go to school … It was busy."
Listen to the full clip.

On a class he took at Northeastern: "We had a lab course. The Edison people I was going with all had the same job I had … We always could find a way in our lab to bring our own things from the office, and do our things and get out of there."
Listen to the full clip.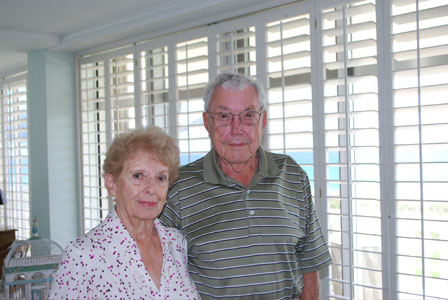 Steve with his wife, Genevieve.
On hiring co-ops at Boston Edison, where he worked for 38 years: "That's the greatest program of all. It really is. I mean, we had a lot of them, and I think the advantage was twofold, for the student and for us. What I insisted on when we hired them was they had to have meaningful work."
Listen to the full clip.

On his time on the Board of Trustees: "I did enjoy the board. There were nice people, and it was a good working board. You didn't just come because it was an honor to be on the board—you were there to do something."
Listen to the full clip.

On why he supports current Northeastern students through scholarships: "I think that the people who have achieved a fair level of success and have a chance to give something back, I think they should … Now these students, they'll carry that forward."
Listen to the full clip.

On Northeastern being primarily a residential than commuter school nowadays: "I think you can build up friendships because you're living with people day to day—day in, day out. To me, that adds more to the college experience … versus like in our group, where there was nothing because we just went there and came home."
Listen to the full clip.

On being on the Board of Trustees when Northeastern was downsizing: "But then, with [President Jack Curry], came the move to downsize—to downsize and create a campus. I enjoyed that because I think we were creating something that has lasted, and I think that is doing well."
Listen to the full clip.

This interview is available in its entirety in the Northeastern University Archives. Photos: University Advancement Office. Compiled by Jessica Melanson.