James L. Waters, H'93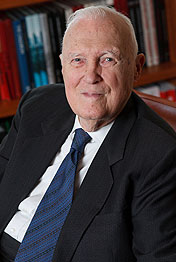 Jim Waters is an entrepreneur and industry pioneer who received an honorary degree from Northeastern in 1993. He is the founder of Waters Corporation, an instrument company that started as a research boutique building instruments to specification and grew into a billion dollar business serving scientists all over the world.
Jim was raised in Nebraska until his family moved to Framingham, Massachusetts in 1942. In 1947, he received a bachelor's degree from Columbia University in physics and engineering. He served as an officer in the U.S. Navy during World War II. In 1959, he founded Waters Associates, the pre-cursor to Waters Corporation, with its first shop located in the basement of the police station in Framingham. Waters Corporation merged with Millipore in 1980. In 1996 Jim founded Cetek Corporation, a biotechnology research firm. He served as the chairman of the board until selling the company's assets in 2007. With his wife, Faith Pigors Waters (MEd'72), he is the cofounder and trustee of the Waters Foundation, a private charitable foundation focused on systems thinking in the field of K-12 education, a passion of Jim's.
Because of their strong belief in the value of higher education, Jim and Faith have been generous supporters of Northeastern for decades. They endowed the James L. Waters Chair in Analytical Chemistry and have provided numerous gifts to the Barnett Institute, including funding the James L. Waters Mass Spectrometry Laboratory and The James and Faith Waters 500 MHz NMR Facility. A gift from Jim and Faith established the Waters Research Electrophoresis Fund.
Jim is member of the Biotechnology Steering Committee, a benefactor of the Huntington Society, and a longtime member of the Barnett Institute Advisory Board. He serves as a Lifetime Trustee Emeritus.
Jim and Faith live in Concord, Massachusetts and have two children.