On why she chose to attend Northeastern:
"It's one of those crazy stories. I was studying history in high school. I was really in love with history and had done advanced placement and knew that's what I wanted to study."
Listen to the full clip.

On living in Stetson East:
"The first year Stetson East opened, that's where I lived. I went by there the other day and they used to have a stairway. If you were on the side that's Speare Place, they had a staircase that used to go up the middle of the dormitory."
Listen to the full clip.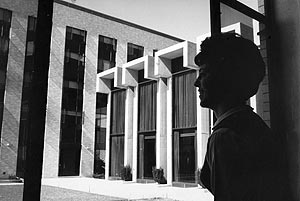 A student pictured outside of Stetson East in the late 1960s.
On her co-op experiences:
"My first job was with the state level of law enforcement assistance administration, which was an act that had recently been passed. This person was looking for someone to read material in that area and do synopses for him."
Listen to the full clip.

On interviewing for jobs in 1976:
"I didn't know what a recession was, and I didn't know that you couldn't get jobs in a recession, and the investment industry had just gone through a very hard time."
Listen to the full clip.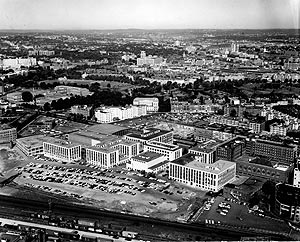 An aerial shot of campus in 1965.
On what campus was like in the 1960s:
"The campus was really very tiny. It was just mostly what you see on Huntington Avenue and just directly what you see behind those buildings. It did not go to the tracks, those were parking lots."
Listen to the full clip.

On Northeastern in the late 1960s:
"I entered college in 1967, and believe it or not between September of 1967 and September 1968, the world changed. It absolutely changed. Just in terms of the dormitory itself. When I entered you could not have male guests into the dormitory. You had to wear skirts to dinner. There were curfews."
Listen to the full clip.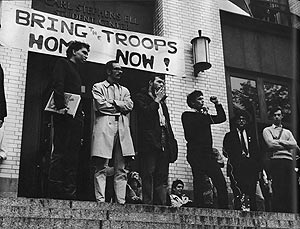 Protestors assemble on the steps of Carl Stephens Ell Student Center in 1968.
On what campus was like the day Martin Luther King, Jr. was shot and during war protests around Boston:
"I do remember being on campus when Martin Luther King was shot, also Bobby Kennedy. And I remember, because the night King was shot, I was going to a play in Cambridge which I was reviewing for an English class…It was interesting because it was more quiet that night than other nights."
Listen to the full clip.

On her favorite Northeastern history professor:
"I would have to say my favorite professor was the demographic historian Dr. Post. I took a number of classes with him and I did an honors project under him, and he was great. It was a whole different way of looking at history."
Listen to the full clip.

On what has inspired her generosity to Northeastern and the 21st Century Scholars Program:
"I went to Northeastern with basically no money; I came from a family that didn't have any money. We were a working-class family."
Listen to the full clip.

This interview is available in its entirety in the Northeastern University Archives. Photos: University Libraries Archives and Special Collections Department and Glen Summit.