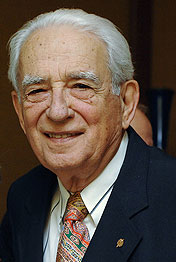 A highly successful entrepreneur in the field of semi-conductor integrated circuitry, Dr. George S. Kariotis is a 1944 graduate of Northeastern University's electrical engineering program. Now retired, George is best known for cofounding Alpha Industries, Inc. in 1962 and transforming it from a risky venture in the emerging field of microwave component manufacturing into a billion-dollar market leader under its new name, Skyworks Solutions, Inc.
The oldest son of Greek immigrant parents, George grew up in Hyannis, Onset, and Falmouth, Massachusetts. He arrived at Northeastern in 1940 with help from a $100 grant that funded most of his tuition. The onset of World War II interrupted his education, and at the end of his sophomore year, George left Northeastern to join the Navy V-12 program. He served as an electronics maintenance officer in the Pacific theater, and was honorably discharged in 1946.
George continued his studies at many other schools but credits his Northeastern education and co-op experience at Boston Edison Company as early preparation for his successful career. After graduation, George worked a few jobs before finding a position he really enjoyed at Sprague Electric, the then world leader in capacitors. He started at the North Adams, Mass.-based company in 1949 as a sales engineer and rose to the company's Pacific division general manager by 1956. Due to family needs, George moved from California back to the east coast. There he joined Microwave Associates as vice president of sales and marketing; he stayed on for seven years, running two of the company's divisions.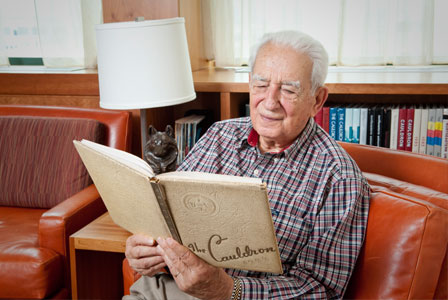 Reminiscing with photos from the 1960 Cauldron yearbook.
In 1962, George ventured into the microwave components industry by starting his own business, Alpha Industries. After some early turbulence, Alpha Industries achieved profitability and had a successful public offering. In 1970, Alpha Industries acquired Sylvania Microwave in Woburn, Mass., where Alpha relocated the company headquarters. Through the years Alpha Industries gradually focused on its semiconductor products. Today the company, now known as Skyworks Solutions, makes over a billion dollars in annual sales.
In 1979, then newly elected governor Edward King asked George to join his cabinet as secretary of economics. George accepted the position and took a four-year leave of absence from Alpha Industries. King lost the next election and George left his secretary position, but in 1986, the Massachusetts GOP asked George to run in the gubernatorial election. After an unsuccessful campaign, George stayed at Alpha Industries as chairman of the board for a few years until his retirement.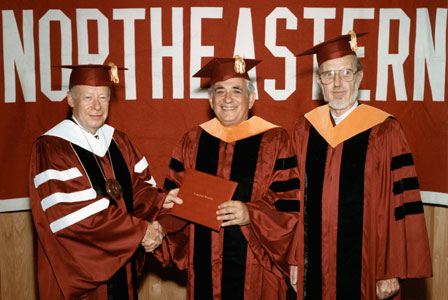 George receiving an honorary degree in 1988.
Though a successful businessman, George is also very involved in higher education and other causes. He is a vice-chairman trustee emeritus at Northeastern and a chairman emeritus at the Massachusetts Technology Collaborative. He holds honorary degrees from Northeastern and Merrimack College. George also serves as an advisory board member for Northeastern's School of Technological Entrepreneurship and has established both undergraduate and graduate scholarships for the school.
George has a daughter and a son. He now resides in Massachusetts and Florida with his wife, Ellen.