On what the University was like in the 1930s:
"It was a lot different than today, I'll say that. We had one building that we called the lab building. That's where we did all of our mechanical and electrical and chemical studies, plus some classrooms. It was three stories I think. That was behind the YMCA building."
Listen to the full clip.

On the construction of Richards Hall and the campus environment:
"That was the year just prior to when I retired…I remember across the street there was a warehouse, and then I heard that Northeastern had purchased that and they were going to use it for buildings."
Listen to the full clip.

As part of Bob Smith's studies as a civil engineering student during the Great Depression, surveying in the Fenway was a core requirement. Bob, at far right, is pictured with fellow classmates.
On meeting former Northeastern President Carl Stephens Ell:
"One time we had a mass meeting, and this is before the girls were admitted, he said, 'Boys I want you all to dig in and donate; we're gonna start a campus!'"
Listen to the full clip.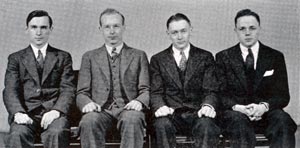 Bob Smith in his 1937 yearbook with other members of the Boston Society of Civil Engineers. Bob is pictured second from right.
On why he went to Northeastern, co-op, and membership in the Boston Society of Civil Engineers:
"I wanted to be a civil engineer because I loved building and construction, putting things together. That's just my hobby."
Listen to the full clip.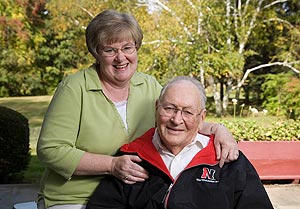 Bob Smith with his daughter, Jean Fierro, in front of the birch trees he planted for his wife, Elva, more than forty years ago at their North Shore home.
On being a charter member of the Frank Palmer Speare Society:
"I remember there were about 40 members. Frank Palmer Speare was our first president for one thing. And I knew that if you gave money that you'd get money back. "
Listen to the full clip.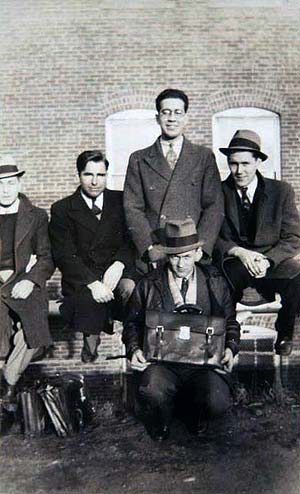 Bob Smith, front row, with classmates in 1934.
On his first co-op job at Eastman Kodak where he worked full-time for more than 42 years:
"I got a job at Eastman because I didn't live far from it. I was there when I was going to school and Kodak gave me a portion of the money for it. I stayed with them 42-and-a-half years. I became plant engineer. I started with overalls, boots, gloves, chipping off mortar from old bricks to use over again."
Listen to the full clip.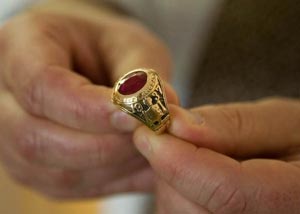 Bob's 1937 class ring.
This interview is available in its entirety in the Northeastern University Archives. Photos: Robert Smith, Heratch Ekmekjian, and University Libraries Archives and Special Collections.